Coachella Valley Housing Market Report. Riverside County, California.
August 2022
What is the housing market like in Coachella today?
PRICES: The August's median price of a detached home in the Coachella Valley fell to $682,000 from $710,000 last month, but it's
still up 17.4% year over year. We have entered the seasonal period when home prices usually slow, or even decline, so some of
this decline is seasonal but most we believe represents the general corrective turn that is occurring in home prices everywhere.
The median price for attached homes in August was at $467,500, which is down again from the previous month but up 25.1% year
over year. Year-over-year gains in detached homes are still large and range from 45.9% in Indian Wells to 15.6% in the city of
Coachella. In the attached home market, two cities continue to have gains over 40% - Desert Hot Springs and Bermuda Dunes.
SALES: Home sales have been falling dramatically. The three-month average of sales in August was 674 units a month, which is
lower from a year ago by 31%. The largest declines were again in the cities of La Quinta and Palm Desert, where sales were down
42% and 34% respectively. The cities of Bermuda Dunes, Deseret Hot Springs and Indio experienced much smaller sales declines.
Only the cities of Coachella and Thousand Palms had the same or higher sales numbers.
INVENTORY & "MONTHS OF SALES" RATIOS: On September 1st, Valley inventory was 1,593 units, which is 757 units more than
last year. After surging for three months, inventory has stayed around 1,600 units for the last two months. Some of this is
seasonal, and we expect it to stay at this level for another month or so. Then, if seasonal forces continue, it should start to grow
again, possibly reaching 2,500 units by February. The Valley's current "months of sales" ratio is 1.9 months, which is the same
ratio as last month. The ratio remains considerably below 3.0 to 3.5 months, which is normal for late-summer.
DIM: At the end of August, the median number of "days in the market" in the Valley was 28 days, which is three days more than
last year. We believe we've seen the lows in average selling times and expect this metric to rapidly increase back to 50 or 60 days,
which is normal for the region. The city of Desert Hot Springs continues to have the lowest median selling time for detached
homes at 19 days, followed by Rancho Mirage, Cathedral City and Indian Wells at 23 days. In the attached market, Indio has the
shortest selling time at 11 days, followed by Cathedral City at 18 days.
PRICE DISCOUNTS/PREMIUMS: At the end of August, 36.1% of sales occurred above list. This compares to 51.1% a year ago.
We fully expect that, by the end of the year, the ratio will be back to past norms at around 10%. The cities of Coachella and Desert
Hot Springs have the highest average selling premiums for detached homes at 1.4%, followed by Indian Wells at 1.1%. In the
attached market, Indio has the highest average premium at 2.2, but these numbers are rapidly declining.


The Desert Housing Report August 2022: Produced for Valley agents through the sponsorship and cooperation of GPSR and CDAR by Market Watch
Coachella Valley Sale Price Drops For First Time In A Year: Market Continues To Normalize
Though the number of home sales seems to be taking a normal seasonal dip, we had about 23% fewer sales in August than pre-pandemic levels. The lowest since the housing crash over a decade ago. All Coachella Valley cities are experiencing this decline in sales at varying levels.
Interestingly however, the sales decline has been limited to homes priced under $700k. Though the overall number of sales are down 31% from a year ago, homes priced above that $700k mark have still seen the number of sales increase year over year.
Valley inventory has plateaued the last several months after seeing a 3 to 4 month surge that brought the number of active homes to about 1,600. This is over 750 more active homes than we saw this time last year, but still about 30% short of normal levels. We should see a seasonal increase in inventory starting in October that would bring inventory to around 2,600 in February or March. Again, still about 1,000 short of what we normally see.
Months of sales has also plateaued (to 1.9), after seeing a steady 7 month increase, and is significantly up year over year in every city and every price range while the number of homes sold valley wide above asking is down 15% (to 36%). Still 25% more homes selling above ask then we had seen prior to 2020.
All of this data points to a market here in the Coachella Valley that is shifting to become more balanced, though still in favor of sellers at this point. If inventory remains at, or close to current numbers (about 30% less than pre-pandemic levels), we can expect to see home prices stabilize or continue to gradually increase through the season. We'll be watching this closely along with the Federal Reserve's decision on an interest rate hike this fall and its effect on buyers in the Coachella Valley.
Coachella Migration & Relocation Trends
Find out the number of homebuyers searching to move in and out of Coachella, plus the top relocation destinations.
In Jun '22 - Aug '22, 20% of Coachella homebuyers searched to move out of Coachella, while 80% looked to stay within the metropolitan area.
Which homebuyers are searching to move into Coachella?

Across the nation, 6% of homebuyers searched to move into Coachella from outside metros.
San Jose homebuyers searched to move into Coachella more than any other metro followed by San Diego and Seattle.
Where are Coachella homebuyers searching to move to?

80% of Coachella homebuyers searched to stay within the Coachella metropolitan area.
San Diego was the most popular destination among Coachella homebuyers followed by Las Vegas and Phoenix.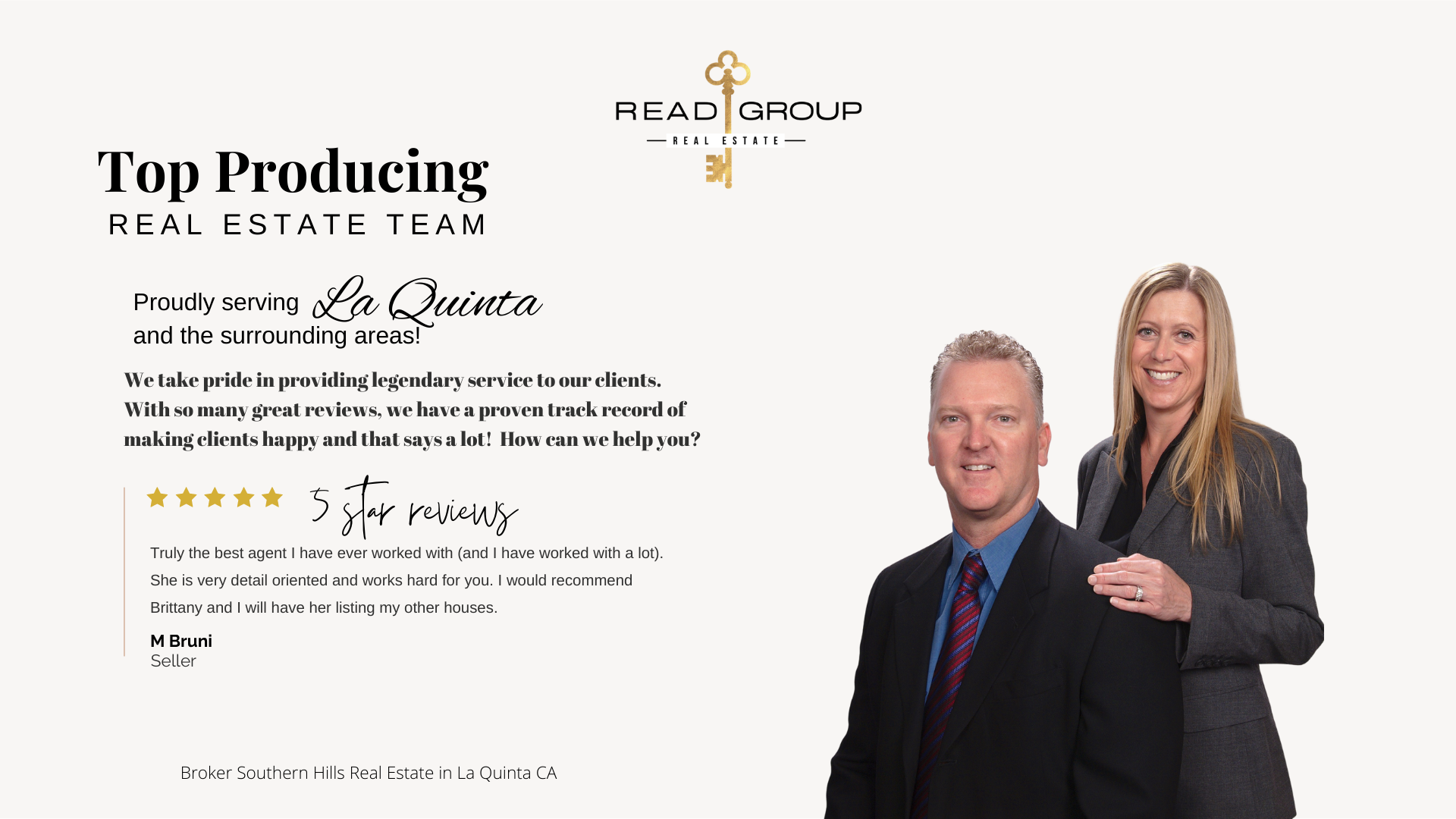 If you have any questions about the real estate market in La Quinta or about real estate in the area, please feel free to contact the Read Group anytime at 760-835-8805 or send us an email at info via our contact link on this site at www.teamreadre.com. We're always just a phone call away and look forward to helping you find your dream home in La Quinta.
If you're searching for a home or a vacation home on and around the resort property, you can find it here. Whether you stay near the resort or at PGA WEST, you'll have access to all the resort's spectacular amenities. You can find private residences that are incomparable, featuring everything from one-bedroom condos to exquisite five-bedroom estate homes.
Experience La Quinta and live the life you've dreamed of. If you're looking to buy or sell a home in La Quinta, give us a call. The Read Group sells Lifestyle Homes in La Quinta, California.