Should You Buy A Home With An Existing Pool?


Buying a home with an existing pool can save you money on the construction of it and the hassle of having your yard torn up during installation. Depending on the condition of the pool, an existing pool can be a good buy. It's a bonus if having a pool is on your wish list without adding another monthly payment to your debts.
Your choice depends on your expectations — because in most cases it's like buying a car, once it's yours, you'll never get the full cost back. Here's what you need to know. When a Pool Makes Financial Sense
If you live in a higher-end neighborhood and most of your neighbors have pools. In fact, not having a pool might make your home harder to sell. If you live in a warm climate, such as Florida or Hawaii. Your lot is big enough to accommodate a pool and still have some yard left over for play or gardening.
Still, that's no guarantee you'll get a return on your investment. At most, your home's value might increase 7% if all circumstances are right when it comes time to sell. Those circumstances include the points made above, plus:
• The style of the pool.
• Does it fit the neighborhood?
• The condition of the pool. Is it well-maintained?
• Age of the pool. -If you put a pool in today and sell in 20 years, you probably won't recoup your costs, especially if the pool needs updating.
You can attract the right buyer if you go to sell. Couples with very young children may shy away from pools because of safety issues, but an older childless couple may fall in love with it. It all depends on your market and talking to your agent who knows your local market may help you decide.
Only the homeowner, can determine the true return on investment. A pool can add value to your quality of life and enhance the enjoyment of your home. You can't put a price tag on that. You should consider how much a pool costs to build and maintain. - Have questions about buying a pool home in the Coachella Valley area?
Please feel free to message us here! Create an account and we'll give you a call.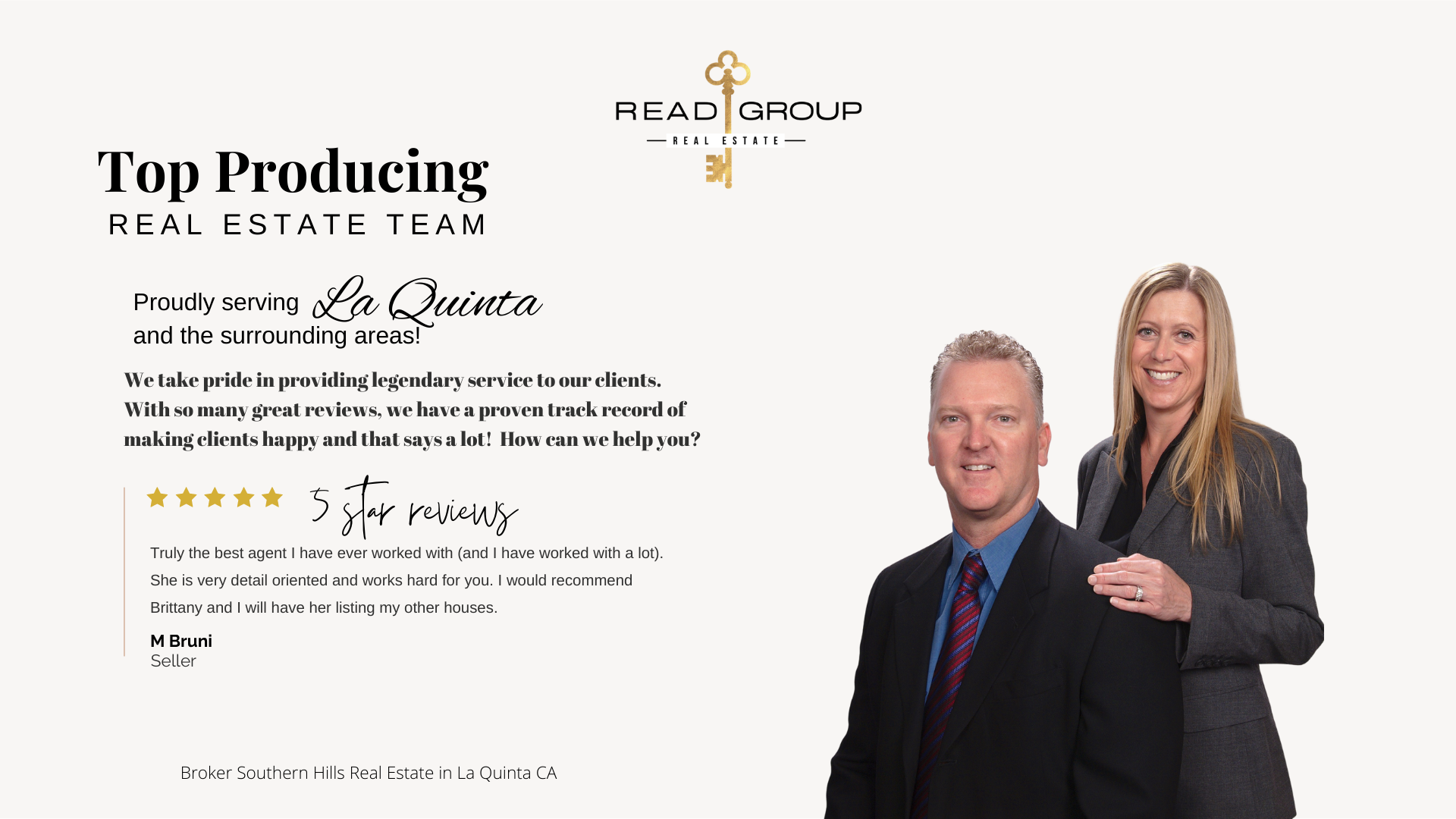 Home to 25 golf courses, 16 parks, and miles of hiking and biking trails, La Quinta is a truly remarkable place to call home. If you are looking for a beautiful place to live with a myriad of activities nearby, consider moving to La Quinta for these and several of the other reasons listed below.
Whatever it is that you are looking for in your prospective hometown, La Quinta can provide it.
If you have any questions about the real estate market in La Quinta or about real estate in the area, please feel free to contact the Read Group anytime at 760-835-8805 or send us an email at info via our contact link on this site at www.teamreadre.com. We're always just a phone call away and look forward to helping you find your dream home in La Quinta.
If you're searching for a home or a vacation home on and around the resort property, you can find it here. Whether you stay near the resort or at PGA WEST, you'll have access to all the resort's spectacular amenities. You can find private residences that are incomparable, featuring everything from one-bedroom condos to exquisite five-bedroom estate homes.
Experience La Quinta and live the life you've dreamed of. If you're looking to buy or sell a home in La Quinta, give us a call. The Read Group sells Lifestyle Homes in La Quinta, California.